Department President
Mary Hendrickson
carmar21@msn.com
2019-2021
Theme: "Remember, Honor, Serve "
Symbol: Poppy
Project: Collect funds to assist our 87 County Veterans Service Offices (CVSO). Many of the veterans who visit their CVSO are also in need of a helping hand and they can offer emergency resources. President Mary's project will be to purchase gift cards for items such as gasoline and groceries so that they can distribute them when needed.
Mary Hendrickson is an honorary life member of West Duluth 71. She is eligible for membership through the service of her father, Clarence Gilbertson, a W.W. II Army Staff Sergeant and her husband, Carl Hendrickson, a Navy veteran of the Vietnam War Era. Although not eligible through his service, she is justly proud of her Great Uncle John Paulson, an Army Private who was a battle casualty in W. W. I.
A Wisconsin native, Mary's parents were very active in the American Legion Family at Post 98 in Cumberland, Wisconsin. Mary was part of a loosely organized group of Juniors leading to Senior Membership. Upon her marriage to Carl, Mary transferred her membership to West Duluth 71 where she quickly became an active Unit and 8th District member. She has held 7 Department committee chairmanships and on the National level has served as NW Division Legislation Chairman and as a committee member on both the Public Relations and History Committees.
On a personal level, Mary earned degrees from UW-Eau Claire and UW-Madison and completed a 33 year career as an educator and school librarian in her home state. In her free time, Mary loves to travel, go to auctions and estate sales, watch spectator sports (especially pro football), collect agates and watch her husband bowl.
Mary is very honored to be serving as the Department President for the 2019-2020 Auxiliary year. She is looking forward to visiting units and keeping our programs at their current high level of excellence.
Department Executive Secretary
Marsha Bible
marsha@mnala.org
Marsha joined the department office In April, 2020 and officially became Department Secretary on July 18, 2020. Marsha has over 32 years serving as a Contract Administrator for a national food service equipment dealer. She is an honorary life member of Silver Star Unit #428 of Waite Park. Marsha is a 54 year member of the American Legion Auxiliary, and is eligible for membership through the service of her late father, Donald L. Willson, who was an active member of The American Legion and a Past National Commander of the Sons of The American Legion (1980-81). Marsha is married to Douglas Bible, a Past National Commander of the Sons of The American Legion (1986-1987), and they have one adult son, Geoffrey.
Marsha is an active member in her unit and the 6th District and served as Department President in 2009-2010. Marsha was an active member of the American Legion Auxiliary in Pittsburgh, PA for 21 years prior to marrying Doug and moving to St. Cloud. She is has a BS in Special Education from California University of Pennsylvania.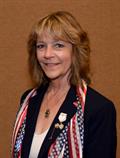 Bookkeeper
Jan Lauby
jan@mnala.org
Jan has been a member of the Apple Valley American Legion Auxiliary Unit 1776 for 25 years. She is eligible through her Dad, John Murray, who served in the United States Navy during WWII. She started working at Department in January 2014.
Administrative Assistant
Jocelyn Yasis